Away little one
October 27, 2010
I grow and grow each day and always in the corner.
I want to come out and play but i'm scared of them laughing and leaving me behind.
So I cry and cry wondering why?
Why i'm I always left behind?
Then one day I decided to leave and go find my way home and stay there alone.
No one will notice that i'm away, and why should they, since i'm just that little girl without a brain.
Well shame, i'm going and never returning.
When walking away, a car pulls up and the pretty lady says: "Hey you! Want to come and play?".
I was thrilled and so I got in and we drove away.
She said she knew my mother and that I was going away to a secret hidden place.
I smiled and turned my head away.
Looking through the window this place we came to wasn't very hidden away.
I turn my head to hear and say: "When are we gonna go play?"
She didn't respond and said not a peep.
I started to cry and she slapped me accross the cheek.
So I shutup and turn my head away.
We kept driving until we got to this lake.
The lady told me to jump in and count to 10.
Then I fell sleepy but didn't awake.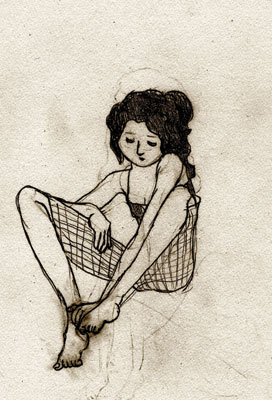 © Samantha W., Albany, NY