Portrait Skin
October 27, 2010
She stood in front of the mirror
With lilacs weaved into her Tie dye hair
The apartment was foggy and stained
With yellow nicotine clouds
That were sucked whole into the ceiling
Which gave her reflection the feeling
Of diamonds in the ruff, and all that stuff
That makes dead leaves look beautiful.

Her soul had no name tag.
Her skin had no constant color.
"Tell me, what's the fun in being normal?"
She asked as she wrote on the mirror
In the fog from her breath...

FITTING IN IS THE DARKEST PRISON!!!

She said music was a series of imploding explosions
And she danced like a bowie in the ocean.
Giving rhythm her almost unwilling devotion.

The record player twisted out the waves
In that room.
Deep brown guitars filled the corners of the room.
Like flowers. One toppled over. But she didn't flinch.
She just kept her vigil watch. Keeping her mood ring eyes
An one another in the mirror.
She was looking , searching, following something.
Some color, some shape she could call home.

The season fell and so did the leaves.
She drank emotions like tea. Like tea.
You may think she's crazy. But she was just
Just sick of seeing beauty as a solid. Sick. Sick! Just sick!
She ripped the pale lilacs from her constantly fluctuating hair
And threw them into a bowl and set them a flame...

The room filled with smoke.
That once lived deeply in-bedded in the pedals.
As the smoke thickened she started to dance again.
Shedding her color to match the mood... Gray...
(Gray as timber wolves on the moon.)
Smiling at death.
Having nothing left,
And just admiring the moment.

The room was cracking with the mere sound of her tom-tom feet
That beat this moment into being. She danced...
She let the smoke flow through her with no remorse.
She couldn't see. But she could feel.
But finely she knew what she was to do.
You see she had been growing in that room... And now...
Now she planed to bloom!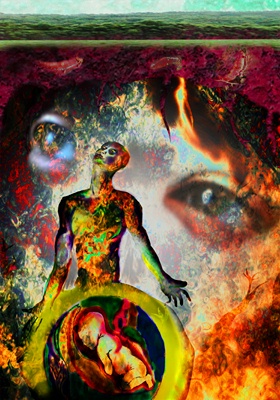 © Tom M., Philadelphia, PA