Famous
January 31, 2011
Forty-eight auditions
And they have yet to return my calls.
Everyone says they will,
That someone will recognize my talent,
and full potential.
Someday, my name will be the household kind.
Ill be in the spotlight.
When I'm on stage,
I wont sing like a deer in headlights.
So I sit by my phone.
Tapping a pen,
in anticipation.
I stare at my phone
Hastily rejected,
Bitterly thinking
This is what its like
to lust after luster.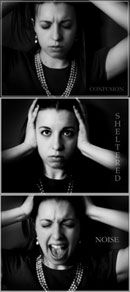 © Michelle B., Blairsville, GA