Surprise
March 17, 2011
The kicking feeling in her stomach,
Reminds her it's not too long now.
The little person that she created
Will soon come to say hello.
She doesn't even know if it's a boy or a girl,
Doesn't really care,
It doesn't really matter.
The only thing she wishes she knew,
Is why God decided to take his father.
That damn drunk driver did the wrong,
So why does it feel like she's being punished?
Left alone with a little soul
With no shoulder to cry on.
Alone to bear the weight of her misfortune
With no distant promise of relief.
But it's alright now,
Everything's all right.
She holds on to that promise dearly,
As they rush her to the hospital.
Everyone is yelling and freaking out,
But she is surprisingly calm.
She remains calm through the pain of labor.
And then the blessed shot comes.
Everything goes calm, serene.
As the medicine does it's job.
But now the hard part comes.
Constant pushing to get "it" out.
All the wishing, all the hoping, all the wondering, all the regret,
That maybe she alone isn't good enough.
Blood is everywhere, because childbirth isn't as beautiful as they glorify it.
But then it's over,
It's all over.
She hears crying and looks to see her little person, her little male person.
Squinted, teary, familiar blue eyes stare back.
A long look, a kiss goodbye, then he's gone.
To live with his other family.
He'll be happier there,
She'll be happier here.
Because saying goodbye doesn't mean you're weak,
It means you're strong enough to let go.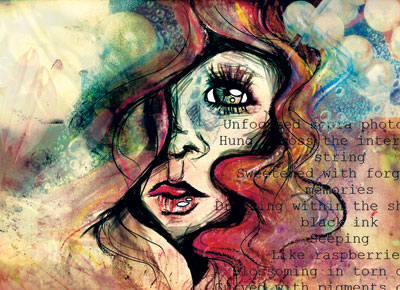 © Victor K., Las Vegas, NV