Only 20 Minutes
May 22, 2011
I sit still for a long time,
a mysterious noise sounds,
it drones on,
and on,
and on,
never to take a break,
I see numbers,
I look at the clock,
only 20 minutes,
I puff a breath through my lips,
I stare at the flat white plane that's in front of me,
strange little markings litter the board,
my gaze floats to the clock again,
only 15 minutes,
at this point I cast nervous glances at the clock,
only 10 minutes,
my foot goes off,
I tap my fingers against my knee,
only five minutes,
I rock in my seat,
my nails scrape my desk,
tick tock tick tock,
drone mumble,
drone mumble,
drone mumble,
the noise threatens to destroy my sanity,
has time stopped?
I'm truly going mad,
my nails dig into my hair,
I force myself to look at my torturer and its moving hands,
FINALLY!
It's time,
recess!!!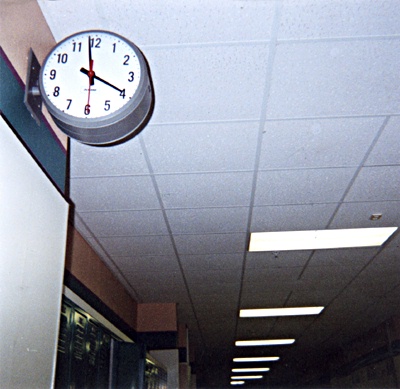 © Blake B., Highland Village, TX