Swingset
July 22, 2011
swaying emotions on a swing set of uncertainty,
every time i move forward,
i move just a little more back,
only to move forward again.
pumping legs and retrieving pushes,
always moving too fast to know what still is.
i cannot remember the last time i touched ground,
or even the last time i was centered.
i once thought that she'd be the one to give
me the great push that shot me to new heights.
then i thought she'd be the one to stop me,
to keep my feet forever on the ground and centered.
but perhaps she will pick up the swing beside me,
and forever sway with me into a million sunsets, hand in hand.
or maybe she will be the one to catch me,
once i finally decide to jump, for which she is the reason.
or what if she is the one that gives me wings,
so once i jump, i will never know what dirt feels like.
the fact is,
she is all,
and she is none.
she is every possibility that i could ever dream,
but she is all i need.
she is art,
hope that becomes reality.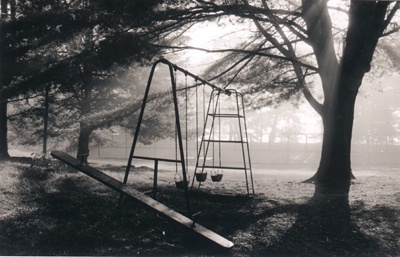 © Steve S., Marblehead, MA