Open & Shut
November 11, 2011
laughing we part ways and so
i find myself walking down the steps alone as she
goes up. a courtyard is

never empty and i don't know why. today
you stand in it but not alone; the teacher you talk with
has no hair. i cannot cross looking. so i don't

but instead watch the sky like always. you, too close
behind me, the teacher is gone, so i cut the corner of the
stairs. still you walk too fast and i get faster but the doorway poses

the problem it always does. do i
slow down? or speed up? someone else approaches from
the side. i pray you: talk.

friendly greetings are not
conversation. you do not stop. i grab
the cold steel handle and you are how far

behind? the reflection will not show me if
i open the door. so i open it riskily. you, still
at an awkward distance and i know, no matter what

happens this will be strange. i pull at the
door and slip in and then hasten its closing and
without turning around to see if

you are coming in i keep
going. i cannot hear the door because
your friends are loud. so i sit down at the back. there

is a window and you
are passing by. it's not like
you would have come in anyways.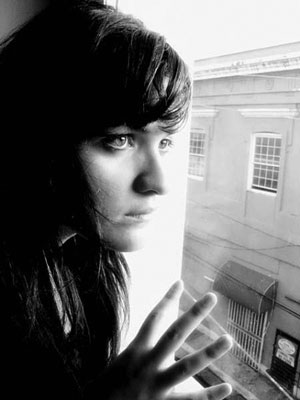 © Eveliz V., Bayamon, Puerto Rico