The Visitor
March 31, 2012
A soft rap at the door brought Mind
to the front of the house. "Excuse me,"
the caller said. "Is your mistress here?"
Mind squinted at the hot spring sun,
a cool sneer on her red lips.
"I am mistress here." Opportunity
adjusted his hat, the blue fabric stark
against his white tendrils.
"Is Heart home? May I see her?
There's something I'd like to talk
to her about." Mind tutted.
"Heart is busy." Opportunity swallowed.
"May I call again later?" Mind reached for
the elfin oak door with a lace hand, strong and solid.
Opportunity bowed his head. "I see."
He shuffled a dusty boot, the sole
scraping the grey stone of the porch.
A silence.
"Who's at the door?" A voice chimed high. Heart
appeared at Mind's side, cheeks rosy, grin wide.
"Hello!" She turned a smile upon the visitor.
"Return to your room," Mind pressed her sister
within. "Go. Do not return." Opportunity
sighed and shoved a grey hand in his tarnished bag.
He withdrew a notebook, leather and new.
A purple ribbon folded between crisp pages
fresh as cream. Opportunity held the book like an offering.
"What is this?"
Mind turned up her nose. Opportunity heaved his
shoulders against the flakes beginning
to fall.
"Hope."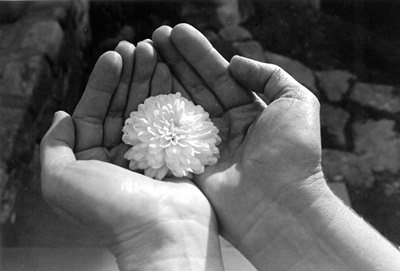 © Beth S., Marblehead, MA