Pendent
April 26, 2012
The rain felt good on his face,
a taste of Heaven, chilling him,
emphasizing the vacancy of the
neighboring swing.
He was pendent in the orange light,
wanting to fly, talking to God:
questions of his plans--why, how--a plea for that vacancy to be filled;
looking past the love he already has.

Searching for intimacy, late-night
conversation, warm life, pulsation, honesty...a promise of I'll-see you-tomorrow...
He thought he lost it, she was
never in it...It's good that he never made three-word promises, never made dreams out of it...

A shooting star had lost its luster--passe, falling away with another man's dream.
There are none out tonight; only
rain falls on his lips, mingling with the voices of children who compose games.

These chains keep him from flying.
He resorts to false premises,
trying to ignore his captivity...
He longs to take flight...but where would he go?
Where would the Wind take him?

It's hard to take flight when you're always looking down, holding fast to the safety net...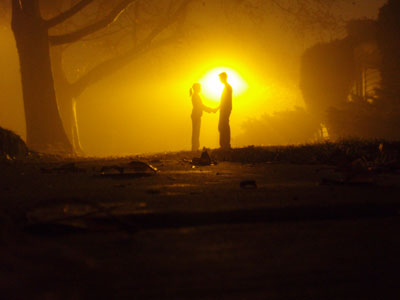 © Tanner H., Kaysville, UT