The Last Day of School
May 11, 2012
You look at the clock, heart thumping, waiting for the time to change faster.
You shake with excitement; only a few more minutes.
You picture how the summer will be;
Sitting by the pool, hanging with friends, just being lazy.
The time seems to freeze as your eyes never leave the clock.
The small hand seems to turn slower and slower,
Every minute seems like five.
You faintly listen to the conversations around you,
Only wanting to hear one noise; the bell.
You wait for it to ring in your ears one last time, knowing you will be free once it does.
No more homework, no more lessons you have to remember,
not having to memorize combinations, or worry if you're going to be late for the next class.
The little hand has almost hit the 12. Just one more minute.
You begin to sweat, your heart thumping louder in your ears.
"Hurry up, clock!" you want to scream.
Summer is so close, yet seems so far away.
The closer the little hand gets to to the 12, the more happy you get.
You just want to run out of the room, down to your locker, and out those doors, never looking back.
The hand has almost lapped around the clock and reached the 12 again.
To pass time you pick at a fingernail or straighten the books on your desk.
You glance at the clock; it has just passed the 11.
Just two more seconds! You keep straightening the books, hoping to pass more time.
You jump up out of your seat when you hear the bell ring.
That will be the last time you hear it until August.
You proudly leave the room, a smile on your face, and kindly leave your worries behind you.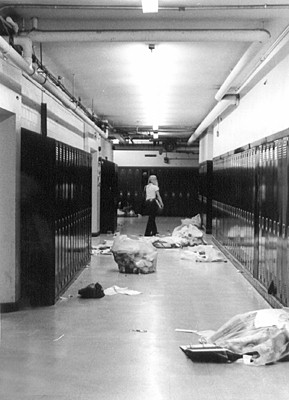 © Halsey S., Marblehead, MA