Fountain (Found Poem)
May 10, 2012
down we went.
to the mountains.
under the moon, her hair Spread out in fiery points that
Glowed into words that became savagely still.
Fighting on arrival under the firelight,
fighting for survival.

Stay with me.
Speak to me.
Sing to me.
Cinderella and her long lost fellow dance
in the midnight hour.

If you ever leave me, darling
drop some morphine at my door,
because the heap of broken images would hurt me,
I implore.
The shouting and crying reverberating; a
prison and palace the same would hobble legs
and buckle brain, preceding,
asylum.
Mental insane.

I hear the tap, tap, tap of a raven upon the towering oak,
black feathers red soaked! Please!
Don't become my Lenore.
Dear for, To say
goodbye!
Parting is such sweet sorrow, I say
Goodbye!
till' it be morrow is a lie!
Parting is a bitter sorrow's rain onto my tongue that
I spit into the sky!

Black raven fly from me.
Demon death rattles the yoke and chain of breath,
Sing to me demon death to be
Like a thief in the night stealing my darling,
Your Piercing scream so out of key.

You who were living are now dying.
Speaking a dialogue between Spirit and Dust.
In this decayed hole among the mountains.
Bathe, darling.
In Heaven's golden fountains.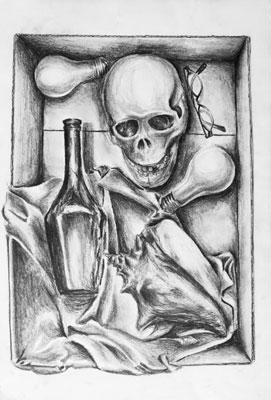 © Karen S., Norwalk, CT