Rice Krispies For Breakfast
May 18, 2012
When I awoke this morning, poetry
Poured
From my sleepy mind, and it made
Knots
In my hair, and curled my
Split ends.

I took a shower and I washed the
Words
From my hair and before it
Drowned
In the soap suds, I
Scooped it up.

I cradled the words, the rhythm, and the rhyme, like a
Newborn baby
And before I dressed I laid them
Carefully
Upon my bed to
Wait

They stood patiently, and once I dressed I scooped them up
(Again)
And spread them like soft butter across my
Fresh white paper
But the words did not melt
As I had expected.

Instead, the words
Curdled, like
Sour Milk
And instead of mixing, they
Sat upon the paper like
Vinegar.

My pen
Tried to force the words to obey, to stay, to lay
But no amount of abuse would do
So the words stared at me
Stubbornly (like children do)
And dared me to try again.

Smoke blew from my ears until I couldn't even
Think
But I was determined to
Teach that poem a
Very, very valuable lesson
About respecting their writers.

But in the end, I was the one who stood in
Defeat
And slowly, sadly, sorrowfully,
I concluded that
Rice Krispies
Would settle my hunger better than
This.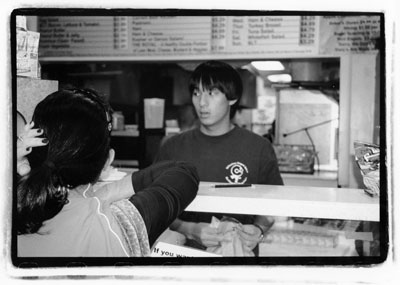 © Rachel D., Bethesda, MD