I long to steal the moon
October 24, 2012
I long to steal the moon.
I see it every night, high in the sky. Staring at me,
Taunting me with its luminesent brilliance.
I long to stop the tides.
Their relentless in and out their tiresome lapping upon the shore, taking away debris,
eroding stones and depositing remains for discovery the next day by and innocent child,
from that moment on,
scarred for life.
I long to see the footprints left by astronauts, cosmonauts and wandering aliens,
I long to make my own impressions in the crystalline moon dust,
I long to smell the cheese and talk to the man who lives within,
I long to swim in the Sea of Tranquility and stalk the barren wasteland in the hunt for an unearthly existence.
I long to minethe minerals hidden in the deep rock,
A fortune I shall have when I sell these rare materials,
I shall explode with pride in the knowledge that my genius and brilliance allowed my success.
I long to steal the moon.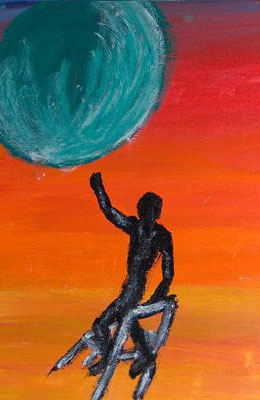 © Maegan F., Harrisburg, NC