Innocent baby
November 29, 2012
I was the youngest,
of five kids born.
Always picked on,
sitting there on the striped
green and white couch.


Arguing with older brothers and sisters,
seeking to get me to do
what I'm told,
while being watched.
Pointless and endless arguments
Whether to watch
Rugrats or 7th Heaven.


Rambunctious brothers and sisters
were arguing one day.
Stuck between their fiery argument
"Do what I say"
"You can't make me"
"Yes I can".
Slammed, hitting the fireplace
with great force,causing my head
to be cracked open.


Blood seeping through my fingers,
tasting the salty
tears streaming down my face
licking them off my lips.
Cowering on the front steps
waiting for my parent's arrival home.


Growing up
I tried to escape the wrath
by going over to my
best friend's house,
only to see that it was
the exact same thing over there.


Every day was the same,
coming home to a brewing storm
cloud dipping deep
hanging over my head wondering
when will it start?


Attempting
to make things work
No arguments.
A peaceful home for my
parents without screaming
never needing to escape the wrath.
Ending the chaos
was always my goal
but it never really happened,
Innocent no more.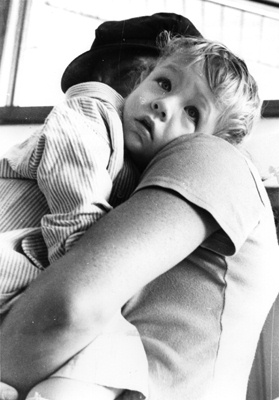 © Ali D., Cincinatti, OH