The Soldier Girl
January 30, 2013
A dream worth fighting for is not just lore. With everyday that passes I see that more and more. Leave you heart open don't close the door. By doing this you wage a war so, don't be afraid of blood and gore.

After your first triumph your heart shall soar,but you must ask this question to truly win; "Has this war been won by me and my kin" or, "Should I implore my soul to take on more?" "Yes!",I say "Bring on the armies; don't tarry my wary friend; let us carry our swords and scarabs with pride for, we are soldiers fighting fate tonight.

Soldier girl make us proud, stay tall and courageous in the crowd. Soldier girl we see the scars you wear with a humble soldier's pride but, we can see your softer side hidden deep in your blue eyes.

You cloths simple, with hair as fair as any princesses tumbling down your back. Without doubt you carry a medic's pack. You calmly bring aid to the wounded men. We call you our traveling angel, because you walk the world to help them.

A simple girl with a righteous heart who was witty and very smart made the difference a man couldn't even when some told her she shouldn't.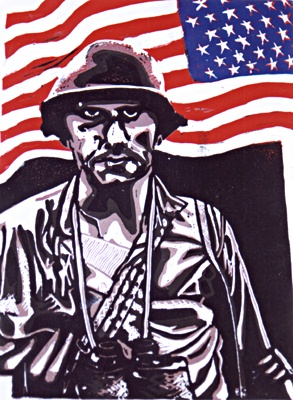 © Troy W., Kannapolis, NC