Running Poem
March 3, 2013
I wish I was someone else
Somewhere else
In a different time
So no one else
Could hurt me
Don't you know I'm untouchable?
That's what they all think
Walk all over me with their crushing shoes
Take a walk in mine
Then you'll know, too
The pain I feel
When I step on stones
But words hurt my soul
More than my bones
Everything will have a cure
But heartache stays
Even in the future
I can't see myself in fifty days
Or even fifty years
But I hope I will have rid myself
Of all these fears
Two days to think
A lifetime to cry
But all I want to know
Is how and why
we are disastrous beings
us humans
all we do is break
and I can't fix it
I try and try
And I miss it
But it all goes black
Always always
Fades to black .
Blackened lungs
And burnt eyes
But gravity will not
Escape my surmise
I know the world
Can stand still
On its own
Just give it time
And make it your home
Home is where
It's always well
Where the secrets are kept
As words you'll never tell
So don't betray me
Stay with me and
Be with me
But don't betray me, love
Because words haunt
If you have
A heart .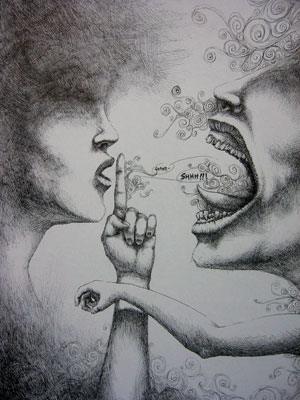 © Andrew M., Apple Valley, MN