True Mechanic
April 11, 2013
You come from bad experiences.
Mistakes you can't go back and change;
damaging relationships,
burying yourself in drugs,
and forgetting life by drinking;
those wrong paths you traveled ,
leaving you unsatisfied and empty.
You are bruised and battered;
a boy fractured from his past.

You see light in me,
a bright stream shining through the dark clouds.
I think you truly believe I am pure good.
However, I'm not that perfect image in your head.
I have sped through a few red lights,
even blown through stop signs along the way.
I have journeyed down one way streets,
leaving me stuck in places I didn't want to be.

I've had a few accidents along the way;
a fender-bender here,
a couple of scuffed tires there.
I've been broken into,
my beloved objects and people torn from me.

There are still parts of me that have yet to be fixed;
a crack in the windshield, a missing piece of the engine…
not all visible from the outside or easy to explain.

I tried asking others to fix me.
They only painted over top the scratched up paint job,
washed the cracked windshield,
and told me my tires would be fine with just a little black spray paint.
I've been searching for restoration from the wrong places.
However, I finally found the perfect mechanic;
the one that can repair any damage.

I'm wondering if maybe you've had a similar experience;
your vehicle has been seriously marred too.
Only, I don't think you met the mechanic that can remake your whole structure.

He can align your crooked wheels from the accidents you've been in,
change the dark and dirty oil.

It may take more than just one appointment at the shop,
more than one small oil change.
But, if you give Him enough of a chance,
and you give me a chance,
He can create us,
a shiny new model.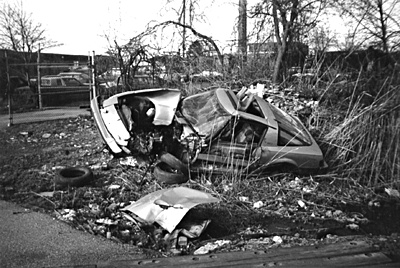 © Ashlee M., Wilmington, DE