A Victim of Love
July 10, 2013
Love was always a strangely defying thing to me
Could such a love exist in the heart of a lost girl?
Even though she was stripped of the ability to love
Because of this thing, love,
Countless scars made rest on her body and heart
Wounding her pride, her happiness, her innocence
She was a naive lover who dreamed of magic
She was a princess and the world was a blinded kingdom
Princes lusted after her, only the princes were adolescent, small, unknowing
They loved to play pretend with the princess
In this world, butterflies flew with such grace and rainbows covered the blue as oceans sky
For hours a day her heart would be taken
Lost among the hands of the prince
They'd run in the field of endless daisies
Cursing the laws of the earth and gravity
Wishing to fly away forever
By this unfortunate time though, the prince would get tired of playing
Tired of dreaming and wishing
And would vanish, leaving the princess at a loss
She'd whisper a soft poem to ease her heart, minutes from breaking
"I like the sculpture of your ears
I like the way your profile disappears
Whenever you decide to turn and face me
I'd like to cross two hemispheres and have you chase me
I'd like you to embrace me
I'd like to find you in the shower
And chase the soap for half an hour while the cold water makes you cower
And my arms are your only place for you to be devoured
In a hug unlike others
From your mother and your brothers
Come here dear.
And though you may still be in fear know that I'm always near
And I'll be here.
Till the end of time."
But even though the soft poem delighted her
The tears still fell, like a salty ocean in a hurricane
Beauty was now confusion and the love and desire were dead
The butterflies had been stabbed and the rainbows shattered.
She'd walk barefoot on the broken colors and laugh softly
The pain was unbearably humorous
Crazy the princes called her
Nothing but a stupid attention loving child
What is it? Love?
I know nothing of the word.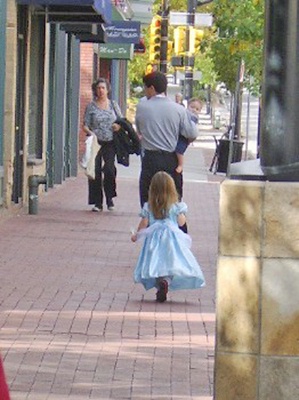 © Kristen T., Tulsa, OK