The Departing Oak
July 15, 2013
In the flowing nature of October, where the rich smell of death looms,
acorns bounce against the decaying ground of fallen leaves.
They departed from the branch that reached to the sun,
reaching up to it like an insect to a headlight.
Hope, hope, was all they had;
would either swerve to achieve its goal?
Was it to reach the light,
or have it avoid them like a fungus in the damp confinement of the roots?

Like at the train station, they wave in the wind,
softly, smoothly, gently;
bidding farewell, hopeless as they fall to the ground.
The leaves falling to their grave,
soaring through the air, they ended gladly;
painlessly.

Without the great structure that held it, they were nothing;
they faded into the undergrowth, never to be seen, nor ever noticed.
Vanishing segments of something once great,
the leaves mourned their own departure for the doubt of remembrance.

Buried, but without a trace of a tombstone,
their bodies lost in the grass and filth.
Mother nature dies, yet nobody notices;
time has passed and others left too.
The wind of the train flying past took the last of the leaves off of the great oak,
catching its suffering depression in its headlights.

Hope was lost and hatred unearthed;
they all abandoned each other, and the great tree wilted.
Alone to rake the leaves together,
disheartened as their screams in the wind blew their stubbornness through the gathering.
Either becoming dust of buried nature, or blowing far away, just to rid themselves of the pain.
From our great family tree, I was the last to leave.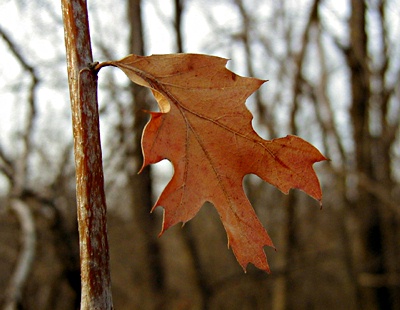 © Brad H., Lemont, IL