The Boy and His Sun
August 19, 2013
Roads are the routes
Into the soul
And yours is jagged,
Asphalt crumbling beneath hundreds of feet.
Houses are the residence
Of your thoughts,
And they topple onto one another,
Shingles loose by the chilling wind of December.

He was born here,
Wails echoing throughout decaying buildings
Meant for city dwellers.
But he-
Oh, he was born inside
Artificial creation
But nature is his home;
The oaks his mother,
Rustling for an embrace;
The ground beneath his feet
His father
He always yearned to have;
The creatures his siblings that never fought back;
The boulders his kingdom;
The leaves his crown.
Rebellion was the only way to survive,
And the human inside had died,
Replaced by the animal the forest raised.

But then she came.
A healing ray to his open wounds,
She repaired his roads and streets,
Patching them with concrete
And his houses were renovated with a sweep of her light.

The human king
Rose again;
The sun finally pouring between the branches
Of his heart.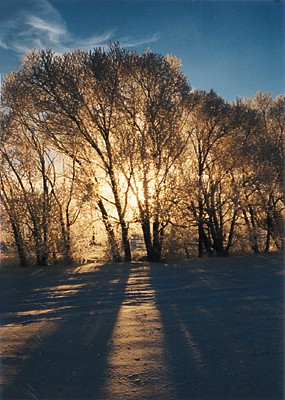 © Kyle G., Badger, MN