Theory on Religion
September 13, 2013
Early this Monday morning
I prayed to God
but He didn't respond:
I supposed He was busy
answering some other urgent prayer
while listening to a myriad
other prayers all at once.
So I headed downtown
to a nearby synagogue;
the rabbi, however,
told me to leave
for not being Jewish:
the Hebrew Lord
can't waste His time
with a "filthy Gentile".
I walked into a cathedral
and confessed to a bishop;
he said
I'd better repent
or I'd go straight to Hell;
yet I wasn't searching
eternal damnation—
but temporary redemption.
The Buddhist temple
was closed today:
they don't congregate
on weekdays.
The mosque was too full
for my taste.
And atheists never meet anywhere
with fellow non-believers.
I headed home,
believing prayers were futile
and left on the deities' desks
like propaganda ads
or complaint letters.
But I found God,
brewing coffee—
a mug for Him
and one for me—
in my kitchen:
He'd been waiting for me
for an hour,
while I was out there,
seeking some other answer
rather than waiting for the one I asked for in the beginning.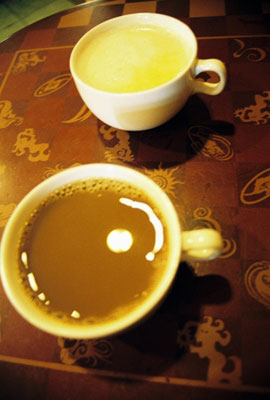 © Jaci S., Duluth, GA