Perdition.
September 25, 2013
Angel's wings as black as night
Moonbeams are her only light
Wandering darkness is her plight
Shadows are forever fright
Trapped in perdition.
Chilled winds only blow
Sadness she will only know
Knowing not where she will go
Bloody rivers forever flow
Afraid in perdition.
Chains around her ankles hold
Skin so pale, forever cold
Never to die, or grow old
Soul is gone for it was sold
Prisoner in perdition.
Wretched tears forever run
A thousand years and still young
Nighttime swallowed daytime fun
Waiting forlorn till the world is done
Lonely in perdition.
Hair drawn to hide her face
Never find a joyful place
Once content and full of grace
Now no happiness to chase
Forever in perdition.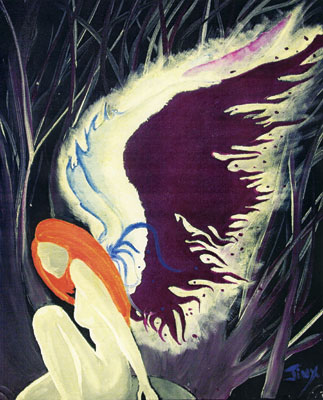 © Megan B., Youngstown, OH