Black
December 6, 2013
When I look out my window,
I see black.
Black houses,
Black skies,
Black birds.
I don't mind the birds or the houses.
But I mind the empty sky,
where the sweetest blue did once reside.
Black has overtaken body and mind,
where has the white light gone in our lives?
Has it drowned in our tears?
Or choked on our blood?
We hold on for dear life,
but black pushes us off the edge.
We flail our arms and scream our prayers,
but God is sinking in a pool of
black.
Be careful, we're under
attack.
Strengthen your heart, and shine your amour.
Don't let the plague of rotten faith touch your pure skin.
It's sin to kill a mockingbird,
but you're a saint if you go to war.
I don't know what this world is anymore.
I'm frightened of the dark,
terrified of the black.
But I'm trapped,
as are you,
in the never ending view of despair.
Slowly and silently,
we sink
to the
bottom
of
black.
Away from hate,
we disintegrate.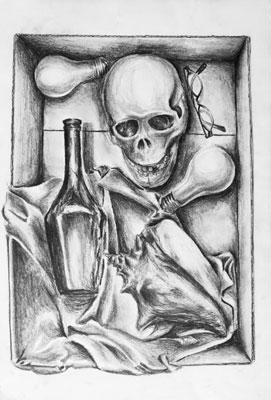 © Karen S., Norwalk, CT