Roar of the Motorcycle
June 16, 2014
Breathing in the scent of newfound comfort,
I brace myself and cling to my anchor
As you rev the engine with a glint of excitement
In your daring eyes that gaze straight ahead.
In a second we're off,
Zooming through the biting cold and gloom
That try to frighten me into
Jumping off and turning back,
But I grit my teeth and hold on tighter
Only because it's you that's right there,
Only because with you,
I don't want to stop anytime soon.

Lights streaks overhead and comingle
With the natural cosmic dots winking at us
While the imposing buildings are
Just a blurred backdrop to you
And our one-of-a-kind adventure.
Eyes dutifully watching the road—
So focused that I wonder if
You've maybe forgotten
I'm right here behind you.
Forever, forever, forever—
When will your thoughts
Look back and reach me?
Moving so fast forward—
No time to go back—
No time to see me,
Is that it?

My grip starts to loosen,
My heart laden and shaken
By the worries that erode my mind.

But there's a pause—
We both stop for a second and then
You twist around to give me
A grin that relights our promise.
Warmth budding inside me blooms,
Kissing my cheeks slowly so that
A whole garden of roses
Blossoms across my face.

Soon the stoplight flashes green,
Cheering us on to just go,
Just go right on ahead,
And when you turn back around
To drive us through the moonlit night,
My hands can't help but
Tighten around you again.
Farther and farther from fear,
My heart is now not afraid to beat louder
Than the roar of the motorcycle.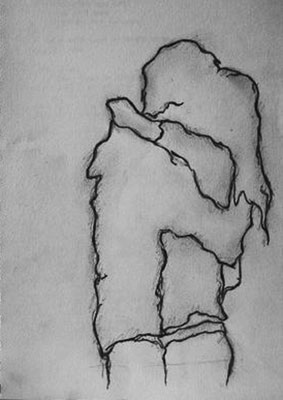 © Nicole B., Newcastle, WA