Your Thoughts
November 10, 2014
The Grammar Nazi that is me
Really wants to go through that letter with a red pen.
Your thoughts are missing capital letters,
An apostrophe here, a period there.
Your thoughts come tumbling out one-by-one
A parade of feelings and opinions
Awakened by that same story that holds me in its chains
And has, somehow, ensared you,
Another one of the books we both read.
Your thoughts zip around from topic to topic
Touching that one, alluding to this one
As you rush to try to share everything
With me.
Your thoughts,
So precious to me,
Frozen on paper while I try my best to hear your voice
In the lyrics I read.
Your face itself materializing in front of me,
a chest holding that treasure I want to open and see.
You are my brother,
And your thoughts are a run-on sentence,
Endless, complex, packed with your ideas,
Speeding through the knowledge and being of your mind,
Trying to harness all that imaginative force
Into a series of words
That I may glimpse the reflection on the surface of your ocean,
Maybe, possibly, shine a light down into the deep
And see the creatures below.
Your thoughts are crazy, to say the least,
Unconventional.
They are your thoughts.
Yours.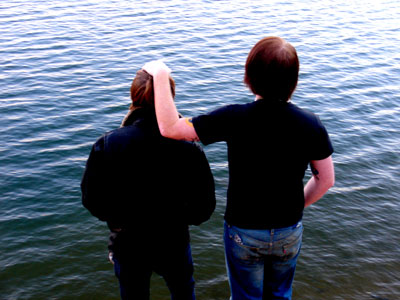 © Michelle B., Blairsville, GA