Crayons
December 13, 2014
I remember when we all got
our own little crayon box
with only eight colors in it.
Those were the days when roses
looked like little red win glasses
with a whirpool inside.
The sun was a quarter of a circle
peering onto the page
from the top left corner.
The sky only spanned 2 inches
from the top of the page,
and never got to kiss the ground.
A person was drawn with a circle
and five lines, or sometimes fifteen
(if we challenged ourselves with fingers).
Sometimes we'd draw a rainbow,
just so we can use all the colors
in that crayon box.
We labeled all of the pictures in black
even though (we knew)
the pictures we clear enough without them.
Imagination ignited magic
created from our own little crayon box
with only eight colors in it.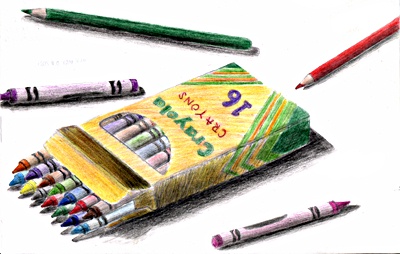 © Dana H., Wichita Falls, TX