What is a dog
February 10, 2015
I, with my little sister, went to the zoo,
showing her the numerous creatures of God.
Here, a lion, is the omnipotent dictator of its kingdom;
Here, a gorilla: the volatile, cantankerous old man that pisses at everything;
Here, a parrot, is the protean polyglot, its tongue nimbly intimating itself to
British-accented John Bull; yellow-skinned Asian tourist; brown eyes sparkling with surprise;
the jester that entertains for a living.
Disappointed at the absence of the common companion in life,
she asked, "What is a Dog?"
How may I answer to the question?
Floods of words flush into my mouth, while my brain fails to glean the perfect response.
A dog is the innate hunter,
humbly cornering prey, profusely guiding novice humans.
Or a dog is the eyes of a blind man,
dispersing the bleak darkness cursed upon his disabled master.
Or blessed with the conspicuous olfactory ability,
A dog is a detective,
sniffing out clandestine conspiracies hidden underground.

Or perhaps a dog is the mentor God benevolently bestowed to humans.
Immutable loyalty, vigilant agility, circumspective patience, ardent spirit.
A dog is there,
When a teenager girl's world collapses,
pillows drenched with tears, air imbued with melancholy.
A dog is there,
When the heart besieged by sorrow, and
the pain of bereavement haunts vulnerable souls ad infinitum.
A dog is there,
When rage overcame rationality, outrageous words of  stupidity spurt,
foolish humans, purposefully but ignorantly, hurting their most loved ones.
A dog is there,
When the haggard soul of a fighter, demolished by the hideous war,
reunited with humanity, the essence of family and friends, after a ceasefire.
The ubiquitous overseer of human events.
The guidance of human behaviors.
The God in the mirror.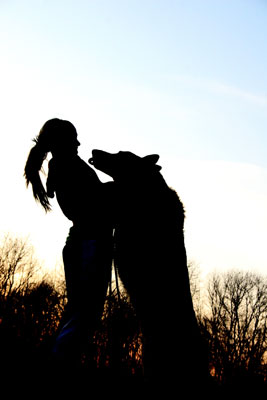 © Brittany U., Terra Alta, WV