The Tree
May 28, 2015
When he was born, he was a whole.
There was the center, and the branches,
The legs, the arms; the head connected everything.
That is, until he was walking down the shores of the sea
which he had made a tradition to walk upon.
When the waters roared upwards,
They roared closer to him than what he was used to.
That's when he looked to notice
That the moon reflecting the water seemed larger, rounder.
It was full, and no longer did it smile down upon his face, it rippled.
And with it, came the sharks who stole his legs.
The tree was cut from the stump upwards,
and suddenly, he wasn't planted in the Earth
He had to freedom to move;
and no longer did he walk along the beach.
Instead, he watched it from a distance.
And this time, he paid attention to the moon
which changed its mouth every single night.
As it grew into a scream,
he didn't notice the base of his chest
dragging along the floor towards it.
Behind him was a trail of sand indented
where his body had been pulled across it.
The crabs followed his path
and took his arms once they found him at the end.
He began to doubt himself, again.
He laid with his eyes parallel the grains of sand
Which he was beginning to inhale.
For a few hours, he stared into the sky
At the moon, who bid him goodbye
To where he could hear her
First, there was anger, and then there was the sound of the waves.
First, there were tears, and then he learned to behave.
And he finally exited his head.
The ocean had  swallowed both his body and soul.
She took it away, falling in the eternal hole
There he sat alone.
And only when he died did he become one with what he was supposed to be.
Only in the humility of being without his branches, could he actually love the tree.
All we are, is the Universe's putty.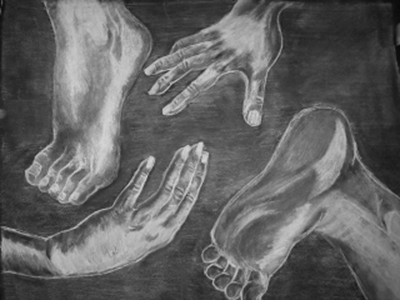 © Rachel U., Danbury, CT