She...
January 27, 2016
She knocks on the door,
They sit unmoving.
She screams,
They casually talk amongst themselves.
Tears stream down her face as she begs for there attention,
They write a speech about change.
She sits in the dark, alone,
They speak to the public about how much they care.
She looks in the mirror, ashamed of her body,
They speak of acceptance for all.
She skips another meal,
They promise they'll listen.
She stands silently, there screams leaving mental wounds that will never heal,
They promise that they'll make changes.
She cuts away at her skin thinking, "at least I can feel something",
They promise no judgment.
She begs to be heard, but is turned away again,
They say they help all who ask.
She is pushed, tripped, hit, and taunted in the halls of her school,
They say "zero tolerance".
She finally snaps, shouting at her tormentors, pleading for the torture to end,
They bring her into the office, "she is a threat" they say.
She sits silently, the fresh bruise from the "star" quarterback beginning to swell.
They shout that she is lying, despite the obvious evidence from witnesses and cameras.
She walks home early, there sports team more important than her safety.
The call her mother, spewing lies from their money hungry mouths.
She crumples to the bathroom floor, tears blurring her vision, sobs racking her body.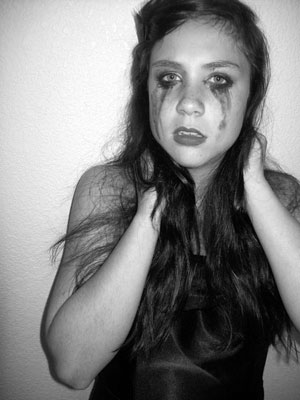 © Tiana D., Monument, CO