Laid to Waste
MAG
February 11, 2016
Laid to Waste
I like to watch my sister eat,
the way her mouth has learned to chew.
Eleven slow, practiced
movements per bite she
will sometimes
hover over the trashcan
in the dark,
a piece for her,
a piece for it,
a piece for the cat
and it's gone.
my sister is more meat than girl;
her ribs could be served at
a steakhouse downtown.
I've no words for how she contorts, pale flesh stretched
taut over empty thighs.
she is thirteen years of
blonde perfection,
a starving statue stubborn in her sickness.
she is thirteen years,
but she has no idea what that holds.
boyfriends march past and
she doesn't lift a skeletal finger,
barely breaks eye contact with
the mirror.
she scoffs at periods,
disgust dribbling out of the corners of her mouth,
she loves her body too much to let it bleed.
(it is clinging to every morsel of her)
Under her eyes are two constant thumbprints;
the women of our family bruise easily,
but she wants to see it all.
She wants her bones splayed out,
terrifying like the white of her teeth,
she brushes them so much they
bleed.
I've held her in bitter convulsions,
felt sharpened elbows in the soft flesh of my stomach.
She has been eighty-one pounds
for years now, a young woman chained to
a decomposing body.
We're the only people who understand the worst parts of each other
I watch her eat and
she soothes my rage.
I handle her gently,
her body a fragile temple,
always.
I hold her hands,
bones wrapped stiffly in my fingers,
and count the ways her smile could end the world.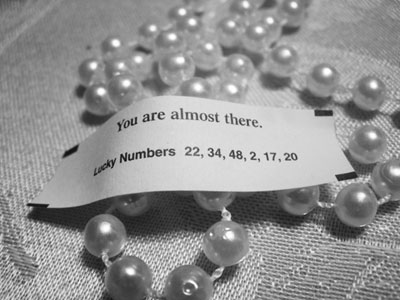 © Elizabeth E., Elmhurst , NY