Melody
March 17, 2016
Magenta leaves trail softly in the breeze
Swishing, swaying to an invisible beat;
Twisting and turning
Shaking and gurning
Whispering 'Me-lo-dy'
'Me-lo-dy'.
Gold-coloured strands
Lift in the wind;
Crimson water
Trickles down the icy red lips,
Limbs crooked and cold
And mouth warped
With no sound.
Melody,
Can you hear the breeze?
The trees the sky the yellow daisies
Growing around the pale face.
Melody
Can you hear me call
Quietly quietly through the rush of air.
Gently feel your fingers
Veins that run blue
Eyes open and bright as blank orbs;
No stars, no smile
Glassy expression, white skin
Bloodless.

Birds may cheep
The sky may colour blue and grey,
The trees may dance, snake around her head
But none reaches Melody
From inside her mossy brown bed.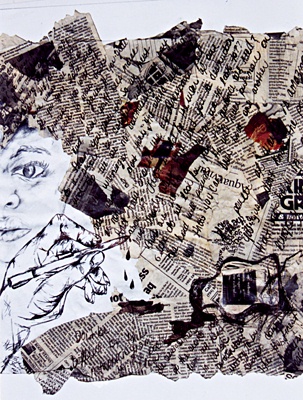 © Lashieta F., Kannapolis, NC