Fireworks
August 14, 2016
Explode like fireflies in the glaring deep blue, the bloodied scarlet, the sharp-toothed silver
That gleams bright, bright, bright, as a rainbow contained in a glass bottle;
As a flame sparking, lighting, drifting into the light azure of the reigning sky:
Extinguish my fear, my pounding breaths, my authenticity.
Burst onto the white horizon like starburst squished from a crumpled packet;
Tint a milky way of my black, glittering stars, my visions, my hopes.
Release me from my inner ropes and blast me like a firework;
Watch me soar and burn, burn, burn;
Burn away the scorching hate, until only the lavender streaks in the seeds of sunflowers
are left to glimmer; as avocado firewood in the morning light.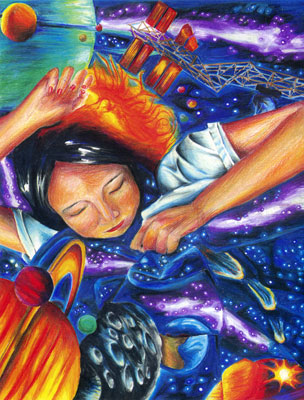 © Samantha P., Flushing, NY