Hopeless Romantic To the Night Sky
September 22, 2016
"Ahhh, the romance in the moon!
Paris,
Rome,
Italy.
The romance isn't in the city.
bThe romance is in the moon.
For in the moon lies our love.
That shining light in the dark night
Sky.
Is what we use to guide us:
Through life,
Through Pain,
But most importantly…
Through love.
For in the moon lies our hopes and dreams. 
The craters deep, just as deep as our
Hopes
And
Dreams.
We imagine diving into these holes,
And flying out euphoric on the other side
In the night
Sky.
Forgetting our base human needs; just to achieve,
Our hopes
And dreams.
For in the moon lies a man.
Or a women.
Or a they.
For the moon knows no gender.
It only knows, to shine it's light.
It doesn't choose where it's beam shall fall.
It chooses only, when it goes.
The sun is out. And we embrace the sunshine,
While waiting anxiously for the night.
For in the night,
Comes the moon.
And with the moon-
Comes Romance."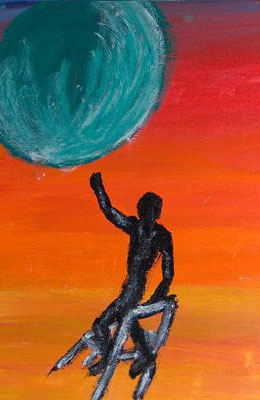 © Maegan F., Harrisburg, NC