What I am
August 4, 2017
They broke it
To me Saturday evening.
I knew they had something
Important to say, because
They both had on their serious expressions
And were together.
We think you're old enough
To hear this now
And understand
They said to me, settling
On my bed.
What? I asked,
Racking my brain for
What this could be about.
When your mother
Had you,
Says my father
We decided to make
A few
He coughed
Looked uncomfortable.
My mother took over
After that
As she always did
During times like these.
A few changes
To your DNA.
You learned that in science
This month
Didn't you?
How babies' genetic codes can be
Altered?
What?
No. This was at some sort of
Joke
Just a joke
Just a
Piper, you originally
Weren't meant
To look the way you do
We changed it
My father added.
My mother gave him a
Look
Don't put it that way
Under her breath
He coughed again.
I was going to cry.
Instead I froze.
All those conversations
We had had
In school
About what would happen
If our parents had changed out traits
Before birth
Which ones we would change
Hair color
Personality
Someone even said
Their gender.
And now.
What would I have been like?
Piper? Are you alright?
No.
I said it before I could think
About anything else
No. Go away. 
They did, after a while.
No doubt to rethink
Telling me.
I wish they hadn't.
I was growing up, that much
Was true. But now
I just wanted to
Curl up
Reel in time
And hold onto it
Forever
Before I wasn't good enough.
I didn't know what I was thinking.
Everyone else would be
Thrilled
Wondering
Asking questions
Wishing it had been them.
Still, it was like controlling
Your name
Fate
Inevitable.
When other people
Played with your
Future.
Regardless of the fact
That they were your parents.
Could you hate your parents
For something they didn't know
They were doing wrong?
Was that right?
Was the world right?
Was I me? Was I a person?
Now that was just ridiculous
My rational side scoffed.
Of course you're a person.
Just a bit different.
Was I really?
That seemed about right.
I guess.
Well, that was all
In the past.
Gone. No use
Worrying about it.
You're just worrying about
Something that won't come true.
You don't even
Know if it would have been
Any better.
It's just a few changes,
Just live your life.
My rational side said
With an exasperated sigh.
I went to sleep
Wondering how rational
My rational side was.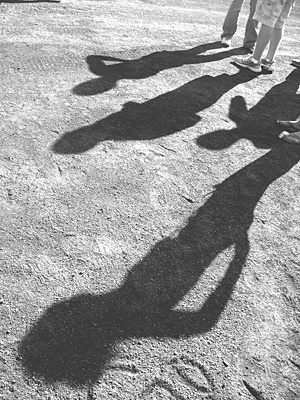 © Trella R., Mountain Lakes, NJ