THE CLASS LONER
January 28, 2011
I sit at the back,all by myself

The walls are painted a dark kind of gray

There are so many books on the shelf

I don't like this place, I don't want to stay


I try to block out the drone of voices

They are so plenty in here, it's suffocating

Jewelry everywhere twinkling like florescent torches

I don't even think there's the need for associating


I take my book and read with maximum concentration

Lonely as can be but I don't even look up

I know I only have to talk to change my situation

But it's me and me alone so I won't stop


I'm bored brainless but I do nothing to change it

It's like everyone here has a friend except me

I know my arrogance is making me act without wit

But then everyone here is acting kind of immaturely


I think if anyone here feels I'm worth talking to

They should come to me and not me to them

If not, I don't mind being with myself till time is due

Because me, myself and I don't want to contact any germs


I'm getting lonelier and lonelier

I think I should just talk to somebody around

But then the bell rings and now school is over

The moment has passed, I feel like burying my head in the ground


Now tomorrow will come very soon

And I will be lonely all over again

Sitting alone muttering to myself like a loon


If I don't have a friend, I'll soon go insane


I swallow my pride and walk to a girl

"Please can I be your friend?" I humbly ask

She looks me down so hard my brain starts to twirl

Oh man! I'm doomed to loneliness in this stupid class.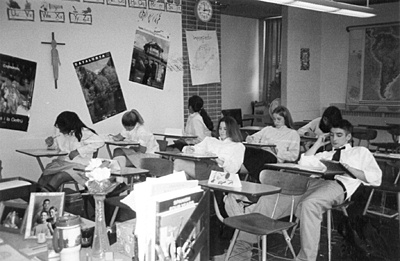 © Fox V., Whitesboro, NY