Follow The Star
January 2, 2012
Bloodless face,

Drained of emotion.

No more hands for you to hold,

Your mind is overrun.

You can't save you,

You lost your only heart.

And for them you always faked

Your life was always a head start.

And now you're lost.

They can't see the numb.

A pale and lightless night,

A blaring and faceless sun.

Keep following that star.

You might find a bend in space,

They won't see your dilemma.

They're the mirror you won't have to face...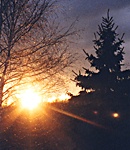 © Christy S., Germantown, NY