"All I Ask"
October 10, 2009
I ASKED YOU TO LISTEN
YOU REFUSED.

I ASKED YOU TO LOVE ME
YOU DID NOTHING BUT HATE ME.

I AKSED YOU FOR OPEN ARMS.
YOU CLOSED THEM TIGHT AND WALKED AWAY.

I ASKED YOU FOR ADVICE AND YOU DENIED MY REPLY AND GAVE ME MORE PROBLEMS TO LIVE FOR.

I ASKED YOU FOR FORGIVENESS
BUT INSTEAD YOU KEPT GUILT AND ANGER.

I ASKED YOU TO LISTEN TO MY LOVE SONG, MY CRY
BUT ALL YOU DID WAS GIVE ME A MEANINGFUL SIGH.

I WANTED NOTHING BUT A CLOSE MOTHER DAUGHTER REALTIONSHIP
BUT INSTEAD YOU DISSED ME FOR A BRAND NEW MAN.

I TRIED MY BEST GAVE ALL MY MIGHT
BUT ALL YOU DID WAS LEFT ME TO SUFFER LEFT ME TO REPENT FOR ALL THE WRONG DOING.

NOW I HAVE NOTHING BUT A TEAR.
A TEAR YOU LEFT ME WITH A CHALLENGE, A CHOICE TO CHOOSE.

THE LORD FATHER GOD SAID DON'T HATE YOU
SO I WON'T.

BUT I REFUSED TO LET SUFFERNESS AND HATRID DOWN MY THROAT.

WHEN I CAME INTO THIS WORLD I HAVE GOTTEN NOTHING BUT LOVE
BUT NOW AS A TEEN NO GRATITUDE IS SHOWN FROM THE ONE I LOOKED UP TO.

NOW I'M MS. INDEPENDENT, THE ONE HAS THE MIND OF HER OWN.
THE ONE THAT DOESN'T NEED THE CRTISISM OR TO BE TREATED LIKE A PHONE.
TO BE USED WHEN NEEDED OR SHOW NO RESPECT.
THE ONE THAT NEEDS ABSOLUTLY NO ONE BREATHING DOWN HER NECK.

THANK YOU FOR BRINGING ME THE TRUTH.
I'M DONE NOW SO I SOLUTE.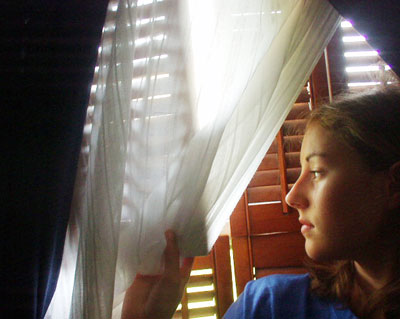 © Candace R., Mt. Pleasant, SC