Fading Slowly
November 9, 2010
Your lashes blink so delicately soft,
So strong and wise yet youthful nonetheless,
The tears dry up much too quickly and oft,
Faster than your emotions may express.
As days roll by like foam upon the sea,
The air grows cold, your strength begins to fade,
You whisper words that mean little to me,
Your comforting induces your own aid.
And now even your warmth can bring me love,
And I feel a fire within begin anew,
Your tired lips smile down from up above,
I answer with my smile right back at you.
The loss is waking up in morning sun,
And was there something that I could have done?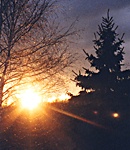 © Vhristy S., Germantown, NY