An Absolutely Remarkable Thing by Hank Green
September 8, 2019
An Absolutely Remarkable Thing by Hank Green tells the story of 23-year-old graphic designer, April May, who, on her way back home from a sixteen-hour shift at her lousy start-up job, stumbles upon an absolutely remarkable sight. Drunk on exhaustion and craving something miraculous to finally happen in her life, April May finds herself calling up her YouTuber best friend, Andy, at 3 o' clock in the morning to help her create a one-minute interview with Carl – a "ten-foot-tall Transformer wearing a suit of armor" – that, in only its first six hours of release, manages to gain millions of views across the globe and change April May's life for the better… and for the worse.
As April May finds herself being whisked into a life of Tier 4 fame, more money than she knows what to do with, and an impulsively-obsessive relationship with Twitter, she has to come to terms with the fact that her life will never be as simple as it once was and - as she continues to make mistake after mistake after mistake in both her fishbowl life and personal life - she needs to look past the growing numbers on Twitter and see herself as an actual human-being instead of a brand… before it's too late.
I was a both put-off and intrigued by the fact that this novel started out contemporary and quickly turned into a sci-fi story with not-so-subtle societal commentaries sprinkled throughout. Only Hank Green could pull off a concept this daring and, as I turned the pages faster and faster, I found that I was actually enjoying each and every bit of this intricately-woven tale. Not only are the characters wonderfully fleshed out – so much so that you feel a deep connection to the main character, April May, despite her many flaws that end up enhancing her realism – but the story is so beautifully complex that it really is impossible to put this story into one category, when it fits in so many!
For example, this story is (mostly) told in the first-person perspective of a young woman, causing it to fit in the YA/New Adult category of contemporary fiction. However, it also features sci-fi elements such as the entire concept of the "Carls" and how they are able to infiltrate peoples' minds through the seemingly-impossible infectious Dream. Additionally, this novel has an aura of mystery and suspense from the very beginning, as there are Easter eggs hidden throughout that keep the reader guessing as to what the Carls are and why their existence is messing with the logistics of Wikipedia (don't ask – just read the book).
Finally, this novel's overarching theme of fame and what it can do to the most ordinary of people tugs on readers' heartstrings during any one of April May's countless struggles and hardships. At first glance, this story may not seem all that deep. That is, until you open the book and get sucked into April May's tumultuous life that goes from creating a silly one-minute interview with a random statue in the middle of 23rd and Lexington at 3 AM to narrowly escaping death and having to deal with the reality of politics, warring opinions, the media and its toxicity as well as what would really happen if mankind was forced to put aside their relatively meaningless differences right this minute and band together.
All in all, Hank Green's obvious expertise on the topic of fame and how it can totally alter a person's identity as well as the massive and, albeit, weird research that probably went into the creation of this novel ended up crafting a well-written, beyond-entertaining, suspenseful story about a girl who, overnight, went from being just another person living in New York to literally becoming "one of the most important things that has ever happened to the human race" and how she, as well as the rest of the world, has to deal with the consequences of her absolutely remarkable discovery.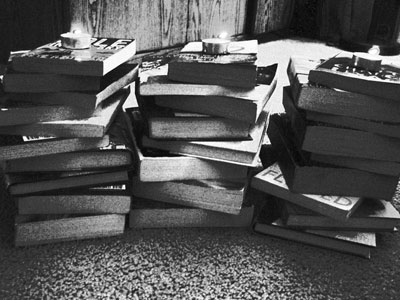 © Alexis R., Clarkdale, AZ