Wuthering Heights: Psychotic Love
September 8, 2021
Wuthering Heights is a sweeping epic and a very misunderstood love story of Victorian England. The plot is a young Yorkshire beauty and her feud with her Gypsy lover on the wild, desolate moors, a feud that haunts the house and the eerie landscape for generations to come. The story has inspired a classic 1939 movie, a pop song, and countless other adaptations. Why then is it misunderstood? You would have to read the book to find out the entire truth. It is a challenge, but it will be fantastic.
The 1939 movie is the only way most people know Emily Bronte's novel, but it distorts the book in many ways. It leaves out most minor characters. There is no Hareton, Linton, or Cathy in the movie. Overdramatic romantic passion takes center stage, and, unlike the book, doesn't make much of the family drama, dysfunction, narcissism, violence, and psychosis written into the novel.
Emily Bronte may have risked her life by publishing this book. Her sister, Charlotte, had already been criticized for her novel, Jane Eyre, because it was shockingly unconventional to write a first-person book told by a strong female narrator. But Jane Eyre's criticisms were nothing compared with Wuthering Heights. A single woman, confined to her house with consumption, had written a tale of blood and guts and ghosts and greed. Its hero had not one redeeming quality. Emily showed herself as a woman of hidden lust and an unbridled, bloodcurdling imagination. She used swear words and hinted at some very serious sexual immorality, including incest. Emily died the following year and left the reasons for writing this book a mystery.
One mystery is the topic of ghosts, haunting dreams, apparitions, and voices in the wind. The love Emily Bronte describes is anything but tame and stable. Quiet love is savagely mocked in this book. Wuthering Heights love is immoral, digs up graves, shows up after death, cuts like a razor, and ruins the lives of everybody in sight. We fell repelled by this ugly love, but as we draw deeper into the book, find ourselves intoxicated by the very thought.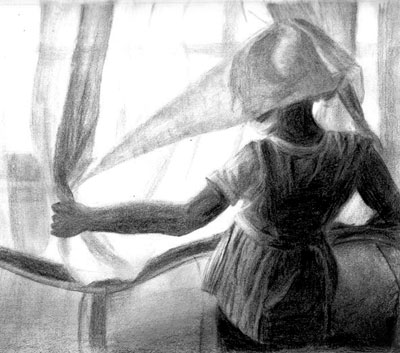 © Kelsey M., Davenport, IA