The Infinite Blacktop (Claire DeWitt Mysteries #3)
June 18, 2018
Free from Goodreads Giveaways in exchange for an honest review
Summary: In the third Claire DeWitt mystery novel (which you by no means have to read the first or second to appreciate), Claire is try to figure out who her attempted murderer is. Author Sara Gran weaves together three different points in Claire's life in order to bring us to that point.
Wow. Just absolutely wow. I'm not usually a mystery fan, but this blew me away. I picked up this book because I had won it from Goodreads Giveaways, and I wanted to read it and review it before it came out on September 18th. I also needed a shift of pace from the plethora of fantasy, sci-fi, and magical realism that I've been reading since I finished school on May 24th. So, when The Infinite Blacktop arrived, I decided it was the perfect book for the time, even if I was getting myself into a genre that I hadn't read in years (I think the last book I read that was truly a mystery was a Nancy Drew novel. Yeah.that's how long it's been).
When the book arrived, I was a little weary of it because I almost never request sequels if I haven't read the previous book(s) in the series. When I entered the giveaway for The Infinite Blacktop, I had no idea that it was the third book in a series. I was worried that I would be missing a lot because I hadn't read the first two books, but almost as soon as I started the story, I knew I had nothing to worry about. As far as I could tell, the novel was completely independent of the other ones (whose summaries I read), and there were only a few recurring moments.
But okay, now for the extreme feelings that I had while reading this book. As I said at the beginning of my review, wow. I am thoroughly impressed with the way Sara Gran writes. First of all, there was all the emotion Gran put into every aspect of the story. From the beginning, the three stories compiled into one novel intertwined beautifully. At first, I didn't see where the novel was going, or how the three stories were related. However, as soon as I noticed the recurring theme of finding oneself, I understood. I believe that, in a sense, Gran's essential purpose in writing the novel was the idea of self discovery, and the mysteries were only a portion of that self-discovery.
One other thing I loved was the subtle gender implications. There was definitely not too much of the book; too much of something that screamed, "I am a feminist novel solely because I portray strong women." But the undertones were there, and they were amazing. One example is after she solves one case and sees the man who takes the credit for all of her work, a man who had dropped the particular case years ago. The whole novel just made me think so much about women's roles and women who do amazing things, but get pushed into the shadows.
Before reading this, I've never considered the life of a detective before. You see so much, and there's so much that happens. It must really take a toll on you.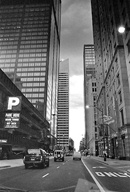 © Alexandra K., Chicago, IL