The Wicker Man
MAG
As the crowd in the theater grew, so did my anticipation. The movie I had waited to see for a year was about to begin. Sinking into my seat, the theater's ambience consumed me. I was about to be more scared than ever ... or was I?

"The Wicker Man" is Neil LaBute's remake of the 1973 horror classic. This version, staring Nicolas Cage, is set on remote Summer's Isle off the coast of Washington. Its small population is made up of a primitive colony dominated by women. Edward (Cage), a California cop, is informed that his daughter (whom he did not know existed) was kidnaped to his ex-fiancée's hometown of Summer's Isle. Confused, Edward goes against his better judgment to save her.

"The Wicker Man" is the worst horror movie I have ever see, but would easily win for the best accidental comedy. Cage is an excellent actor and adds humor to the dead script. He gives a hilarious performance in this one-of-a-kind flick, which I think is a must-see film. I guarantee a gut-busting, wicker-fraying experience.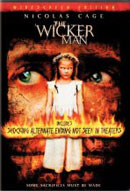 © Anonymous