Poker
MAG
Glancing down, I lifted the corners of the two cards and looked at them. Shifting my attention to the two remaining players at the table, who at any other event would be my closest friends, I decided to play the hand. I already had the chip lead, and I couldn't pass up the chance to win $25. The first three community cards (known as the flop) were dealt: ace of diamonds, seven of clubs, king of clubs. Each player before me bet, and I called. The fourth card, called the turn, was dealt: jack of clubs. I glanced at my opponents as they bet. One of them probably had a flush (five cards of the same suit), but I still couldn't resist the chance to win and I called. The fifth and final card (called the river) was then dealt: ace of spades. My heart began to race. I went all-in and both my opponents called. One had three aces, the other had a flush. My eyes lit up as I flipped over my cards. I was holding an ace of hearts and jack of spades. Three aces and two jacks, a full house beat both my opponent's hands. I was speechless ... my big risk had paid off.

Before I started playing poker with friends, I was very shy. I wouldn't assert myself or take any risks. I'd sit back and pray things happened as I wanted. And then along came the game of chance, the game of luck ... the game of risks. After countless nights with old friends and new opponents, I began to realize that poker is not just a game. With every hand dealt, I found myself comparing my life to this "game."

The first few hands of a poker game are always slow. There's usually not much betting; players just sit back and watch their opponents. They let a playable hand come to them, rather than looking for one. That's how my life seemed before I sat down at a makeshift poker table in my friend's basement.

As the game progresses, the players begin to play more hands. You see people bluffing (betting with nothing much) and raising insane amounts of money just to try to scare off other players. And, you see people taking more risks. This "middle stage" of the game, where the action finally starts, is where my life is now. I've become more straightforward and have started to take control of my life. These days, I find myself making more of an effort to get the hand I've been dealt to produce a reward, rather than wait for a hand I know will benefit me.

Then, once more and more players find themselves out of chips and on the outside of the game looking at the final two or three players, the real action happens. As a player, this final stage is where you want to be. You have to decide whether to risk it all or wait for another hand. In poker, taking that one risk could make you the happiest person at the table, or make you second-guess yourself for the rest of the night. It is what a player lives for.

Getting the opportunity to take my life to the final stage of the game, and take the chance on a hand that might pay off, is what I'm playing for.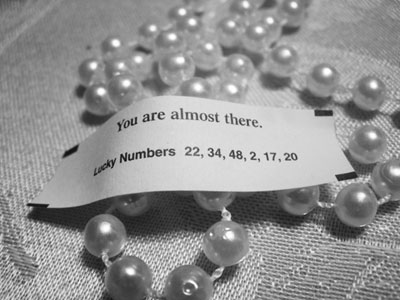 © Anonymous