The Girl in the Mirror
October 11, 2009
We arrived at the strange house today, the house of the Unmentionable Times, after our long journey away from the City. We are free of our old bonds and can do as we please. The rooms of this house are different from the ones in the City. They are full of colors and old manuscripts. The Unconquered is very excited about the manuscripts and plans to begin reading them tomorrow, but we are more intrigued by the reflective glass hanging on the walls.

We have never seen our self before, and what we see is strange to us. Our eyes are dark and strong. They give us assurance in our strength. We see them and think about our journey to our new home. We remember when we first saw the Unconquered and how our heart leapt. We also remember our decision to follow them into the Uncharted Forest, and how we were unsure then, but now we are filled with confidence. We shall never regret the decisions we have made.

We look at our hair. It is long and gold; we think it is very beautiful. The other women's hair was not as beautiful as ours. We now understand why the Unconquered named us the Golden One. Our name is this not only because of our hair, but also because of our spirit. We never let them tell us how to behave or who not to love. We make our own decisions. Now that we are free of the City, we can express our love to whomever we wish. To the Unconquered.

They are our joy. We knew from the moment we looked upon their strong eyes that we preferred them over the others in the brotherhood, but we did not care. Their rules were only meant to hold us down, but they were not strong enough to restrict our love. As we look into the future, we see our love flourishing greater than anything man has ever created.

The Unconquered is finishing the preparations for supper, and we must leave the glass soon, but we could look at our self for an eternity. The girl we see in the glass only makes us stronger, and we can only imagine how our reflection will change.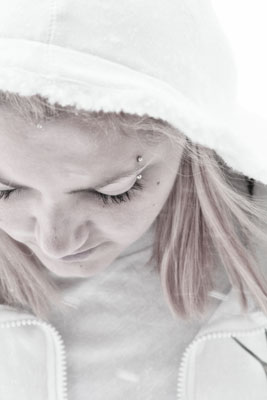 © Jessica F., Bradford, MA