Reflection of Roses
April 22, 2009
The rose. It was supposed to be a sign of love. But not for her.

What was love? Just a silly idea? A silly emotion? Either way, it was silly. She didn't believe in it. If it was true, then why were there divorces? Why was this world filled with sadness? Why were all her tears…reflections of that rose?

A rose of a broken promise. Broken, over and over again. Valerie had had plenty of experiences with boyfriends. Clingy ones. Jealous ones. Bad ones. Good ones. But they all had something in common, for her anyway. They all dumped her, breaking their promises.

They stole her kisses, and her chocolates on Valentine's Day. They stole her friends, and they even stole her from the world. Why? She didn't know. But every one had broken their promise of "I love you."

And then Chase came along. "He has to be different," She thought.

They hung out. They dated. They kissed. They laughed. They loved. He gave her a single red rose. "This one has to be different," She kept repeating in her mind.

But he just broke her heart like all the rest. He dumped her. He quit talking to her. He dated her best friend. He was a player, like all the rest.

Valerie gave up. True love didn't exist for her. Just a broken heart and a broken rose.

She walked down the sidewalk. What was love? Was it hate? But suddenly, she saw a couple. A married couple.

It was a frizzy-haired woman and a tall man. They pushed a stroller. They laughed together. They held hands. They consoled each other. They looked lovingly at each other and their baby.

And there was something about their eyes that struck her. There was a different sparkle within, something she had never seen before. The couple walked by, happy as ever, retaining that sparkle.

She kept walking, squeezing the rose in her hand until the thorns on the stem dug into her palm.

And she came across another couple. They were old. White clouds sat on their heads and wrinkles covered their body. They were arguing. Valerie watched with horror as they fought, wondering what could have caused such a rampage.

But slowly, the two cooled down. They hugged. They kissed. And then she saw it. A mysterious sparkle in their eyes.

And she knew what it was. It was the reflection of a rose. The sign of true love, despite the quarrel earlier. She began to cry. Her tears reflected the rose.

There had to be true love out there.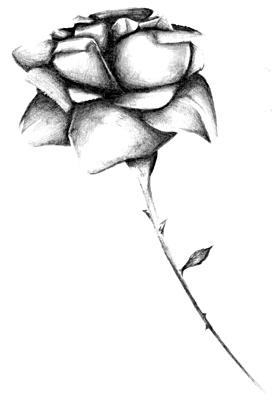 © Yisrawayl G., Philadelphia, PA