Apartment Girl
August 26, 2009
My date walked me up my apartment stairs. He was saying something about a great night, I don't know. I was tuning him out, thinking about a nice warm bath with lilac-smelling bubbles. It was rude to do that, trust me I know. But he was boring.
"So I really enjoyed your company. And I had a great night. I thought the movie was good. And the food tasted really good." Blah, blah, blah. I tried not to roll my eyes. Every guy has said the same thing.
"Oh yeah, me too. You are so funny!" I smiled and touched his arm, trying to be nice but this guy was a pain. Sure he could make me laugh but that's not exactly hard to do. A lamp can make me laugh. The smile didn't reach my eyes, I could feel it. He takes my hand. It was sweaty and gross. I sound like a total brat. Gosh, someone should seriously slap me. I mean the guys nice but if I stopped liking him in the middle of the date that's bad, right? A second date wouldn't go very well. We stop at the top of the stairs and he leans forward, waiting for a kiss. I give him a quick peck, say bye, and walk into my apartment building.
"Another date, Ms. Kristabel?" The front desk guy asks me. He always sees me with different men. I'm not a slut, though. Just a girl looking for love.
"Yes, but this one didn't go well either. Personally, I don't think there's a guy out there for me. I've dated almost every freakin' fish in the sea." I sigh and push the button for the elevator. This apartment strikes me as interesting. Their front entrance looks so grand, I mean the floors actually look like real marble and the maroon walls and fancy couches add zest to the place. They have three floors that go up, and three floors that go down. I just think that's so cool.
"Well, Ms. Kristabel there's always someone out there. Just don't give up." I look back at him and pray with my eyes that he is right. He just smiles and nods his head at me, while the doors slide open. I walk in and press 2D so I can go two floors down away from the guy that I almost fell for. The memory pops into my head. When I first moved here, he was working there. The desk guy was stunningly handsome. Sharp cheek bones, a prominent jaw, black wavy hair, and these brown eyes that melted you when you looked into them, no matter how cold your heart was.
I was holding a box full of my crap when he caught my gaze, and perhaps my feet because the next thing I know I went skidding onto the floor and my crap fell out. His deep chuckle came from beside me as he started picking up the clothes. Bras, panties, you name it, it was on that floor. I get off the elevator and amble over to my door, number 52.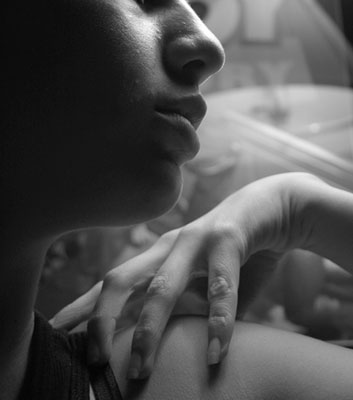 © Rebecca B., Santa Clara, CA