Airplanes
June 19, 2010
Can we pretend that airplanes in the night sky are like shooting stars, I could really use a wish right now.


She walked up to the door, took a deep breath, and pushed it opened.


"Hello." A preppy female voice broke through into her ears, she turned to see where the sound had originated, a blonde, stick thin women in a black suit and heels walked toward her, she had a Bluetooth in her ear and had large blue eyes. Her eyes were outlined with a thin and faint line of blue eyeliner, and she had white shadow covering her eyelids. The women had a fake, lip stick covered, egotistical smile of a smirk on her face as she looked the girl up and down, examining her, she looked about twenty four, no older than that. The women looked at her whole-y jeans and old, worn out, purple t-shirt that read faintly To Write Love, the one she worn so often the letters were barely legible. Her black pigtails hug over below her shoulders, barely revealing the white highlights that were fading as well, a short clump of hair hung in front of her face. Her features were spotless, her pale skin shined and her eyes were green and round, she could not find a trace of make up on her face. She smiled again, as if to say Hmph, wonder who dropped her here.

"May I help you, you look lost." The receptionist said plastering a smile over her pale face.

"No, I'm fine, I know exactly where I am going." The girl tried to push past her but the women stopped her.

"I'm Jacky, this," Jacky motioned around, as if to say, this giant office, that you obviously don't belong in, "is Justified Records, I think you are lost," She looked her up and down again. "Therapy Group is down the hall, tell me how it works out." She said opening the door motioning down the hall way.

"Thank you, but let me introduce myself," The girl stretched her hand out. "I am Aria Williams, I have a meeting here to day and if you don't mind," Aria reached into her black messenger and pulled out a slip of paper. "you could check me in now." Aria smirked as the receptionist took the paper and walked to the computer. She hit a few keys, reached into a drawer near her knee, handed Aria a visitors pass, and smiled.

"Sorry about my commentary, enjoy your meeting." She smiled once again, the fake, plastered, unnatural grin.

"Thank you." Aria mustered a smile and turned to walk down the hall of doorways; she stopped at one that read, Mark Hail and pushed it open.

"Mark?" She said pushing the door open and turning to shut it.

"Hey, Aria. What are you doing here?" He looked caught off guard but stood and walked over to her sitting in one of the two leather chairs in the office.

"Just thought I'd stop by, um, you remember how Gillian offered me that job in Tampa?" She sat and looked down not wanting to see his face.


"Yeah." He looked at her, something wasn't right. Her hair hung just as it always did, her white complexion was beautiful, as always. Her eyes looked worried and scared and he wanted to hold her, but something told him she needed space.

"Well," She took one more deep breath, and looked at him. His brown eyes looked deep and questioning. His shaggy brown hair hung just low enough to cover the top of his eyes; his face looked serious and scared at the same time. His black suit made him look so uptight, she couldn't help but smile. It seemed like every time she saw him at work she barely knew him; he wasn't the guy that would sit for hours with her listening to her music that he always called horrible but still sat there with her. Both of them in old faded blue jeans and t-shirts, as if nothing in the world could hurt them. He was her best friend, he always had been, and always will be. No matter what. He broke her thoughts and the silence that enveloped them.

"You know that's three time zones away, and the hurricanes, and everything." He begged and pleaded without trying to be too obviously in love with her. She could see it, and she wanted to say she felt the same way, but he was her best, closest, sweetest, friend in the entire world. She nodded as if acknowledging his words but not hearing them.

She looked into his eyes, as if an answer would appear on his forehead. Not one did. They had known each other since preschool, they had been through everything together. They had lived in northern California their whole lives, right next to each other. But she had to do it, it was the only way, to start over, and try and forget everything that had happened that year. All the tragedy and hurt, and blood that had been shed. She needed to make it all stop haunting her.

"I'm taking the job." She stood, and turned for the door. Singing softly to herself the song that she'd heard on the radio as she parked her car.

Can we pretend that airplanes in the night sky are like shooting stars, I could really use a wish right know. How true.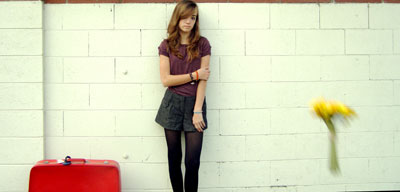 © Austin K., Studio City, CA