Gloria
MAG
I never thought a blind and partially deaf 80-year-old woman who lives alone could teach me anything - until I met Gloria when I volunteered at my school in a program where students buy and deliver groceries to senior citizens living with caretakers.

The first day everything was going well when I walked into Gloria's apartment and started to put the groceries away. I saw a skinny, hunched woman who looked as if she were in pain. When I started talking to her, I noticed her sweet personality. She reminded me of a little girl stuck in an old woman's body. She was so excited to meet new people. It was difficult to talk to her, though, because I had to speak very loud and slowly, and she never would look me in the eye (since she was blind).

I walked around the room and found myself looking at photos of an absolutely gorgeous girl on a horse, as well as of her with her family when she was little. When I looked at these and then back at her, I realized how lucky I was to be young and have my family, even though I sometimes take advantage of these things. For example, when I was little, I would always look forward to getting gifts on my birthday. After meeting Gloria, this changed drastically. I realized that it's not the presents, it's the family and the friends who make birthdays special.

The next time I saw Gloria, I spent more time talking; she told me all about her past, which seemed to bring her happiness. I couldn't imagine how hard it would be to stay happy, not just being blind and almost deaf, but also with no family or friends. This made me realize how pointless the small things are that I get upset about or over-exaggerate. Gloria taught me that no matter what life brings you, you should make the best of any situation. I follow her advice and it really brings happiness to my life.

On Gloria's birthday my friend Casey and I wanted to surprise her with presents. We bought her slippers, a stuffed animal, and a few other small items. It wasn't much, but we knew it would mean a lot since we would be her only visitors on her eighty-first birthday. When we walked in and gave her the gifts, we couldn't have had a better reaction. She was even more grateful than we imagined she would be. The happiness I felt at that moment is indescribable. It was amazing how happy we made her, especially since it took so little. I realized that it isn't the big things; it's the thought that counts. Meaningful things bring true happiness.

Whenever I think about Gloria now, I remember her saying that the only way to go through life is to stay positive. She taught me not only about life but also about myself. She taught me always to appreciate what I have. I'm really grateful to have met such an amazing woman. She definitely changed my outlook. I'm sure Gloria never thought she would change a teenager's life, but she helped make me the person I am today.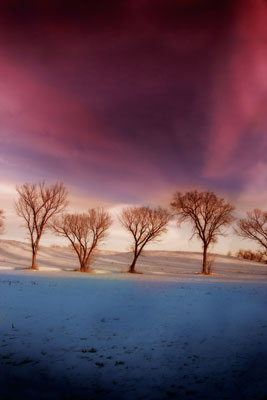 © Anonymous