More than Just Child Obesity: The Shocking Effects of Junk-Food
May 4, 2013
With child obesity rates spiralling out of control in New Zealand, landing the country with the second highest overweight rate in the Anglosphere, it's no wonder we're pointing fingers at our marketed food products. When the numbers are increasing on junk-food ingredients and child obesity simultaneously, one cannot help but put two and two together. But recently conducted research reveals a direct link between health issues in children and poor nutritional food in New Zealand. Researches and predictions add far greater issues to the equation. If anything good can come from this new evidence, it makes the solution far more clear.

Studies and censuses tell us that children nationwide are getting fatter each year. But Rachel Scrivin, a dietician working in Tauranga, has experienced New Zealand's growing weight issue first hand and knows that food is to blame. "A couple of years ago I was seeing five overweight children a year. Now that number would be up to about 20," she says. "If you look at the statistics, one in five children is overweight [in New Zealand]. I would say about eighty per cent of that is about what they are eating." The accredited dietician's opinion, which links child obesity and poor nutritional food, seems to be reflected in the statistics concluded in a national health survey. The survey, titled "Portrait of Health", recorded a 0.7% drop in New Zealand's child obesity rate between 2003 and 2008. Several sources, including Wikipedia, connotate this decrease with the government's work to cut food and drink with high levels of sugar and fat in school cafeterias as well as the amount of junk-food advertising during daytime television hours.

One may think that the consequences of child junk-food consumption end there, but according to researchers across the globe, poor nutritional food doesn't just have a negative effect on physical health. Scientists from the University of Granada have confirmed a link between fast-food and depression in youth, while a study in Perth, Australia, has found that a 'western style' diet can lead to the development of ADHD. But perhaps the scariest mental effect of all is one that has been known for a long time – childhood habits almost always remain habits in adulthood. A study held in Michigan, England, proves that eating habits are no exception. The study measured the BMI (body mass index) of family members of different ages over time, which discovered that a child's health was affected by 'modifiable factors' such as diet, friends, and accessibility to parks. However, these factors were not found in adults, whose health was determined by upbringing. Ultimately, habits formed in childhood related to eating carry over in adulthood. If we don't form good habits in childhood, obesity will continue to increase over time.

Recently conducted research implies that the strongest liability to the childhood consumption of junk-food lies not in the present, but the future. With child obesity rates constantly increasing, spurring a vast array of health issues, New Zealand's financial situation in later years looks worse and worse. "Our research shows that it's a significant health issue that will have huge costs for the public health system in the future from diseases such as diabetes," says Dr Louise Signal, director and lead researcher of the Health Promotion and Policy Research Unit at Otago University. 'Huge costs' is a huge understatement, however, as obesity in New Zealand already costs the country between $722 million and $849 million annually. How much more than that will be required in a decade or so? According to Professor Boyd Swinburn, from the university's school of population health, it will be insurmountable unless restriction is made.
And perhaps restriction is the best solution. Children's consumption of poor nutritional food clearly brings health issues with it, mental and physical. But even worse, these health issues have and will have immense financial requirements to keep the country, and the world, running. Many do not realise that our food products, which are supposed to keep us alive, could lead to our own demise. Taking the destructive physical, psychological, and financial effects of poor nutritional food in mind, it becomes clear that immense modification and prevention for children is required. If small cuts to junk-food accessibility and advertising have dropped the child obesity rates before, then what could large cuts accomplish? Action must be taken, as children are the next generation, who will one day be running the world. We need them to be in good health.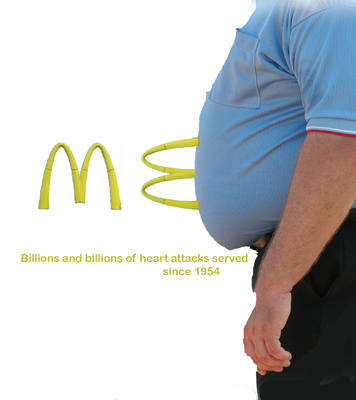 © Sean C., Princeton, IL