The Love of My Life.
April 20, 2009
During class all I could think about was Zach and how I would see him soon. Just a few minutes away from looking at the face I have loved since kindergarten, I impatiently tapped my green mechanical pencil against the desk. I quietly sang "Catch a Falling Star" while I waited for the bell to ring. There were seconds left and I packed up my notebook, folder, and pencil hoping to be one of the first ones out of the room so I can see him. The bell rings and I pick up my pink back pack, throw it over my shoulder and bolt out of the room.

The hall was flooded with a hundred different faces and I tried to sort through them, hoping to pick him out of the crowd right away. After a few very long seconds I see him at the end of the hallway walking in my direction. Staring into his beautiful green eyes I speed up hoping he would see me coming his way. His brown hair bounced gently against his face as he moved and I thought about running my hands through it and kissing his soft lips.

If only the hall would empty and I could be held in his embrace for an eternity. He would whisper into my ear the things that touch my heart. He would caress my arm as he tells me how much he loves me and we would kiss, locked together by our lips we would see into each others souls. He would tell jokes to make me laugh and I would smile the best smile just for him, and he would laugh at how silly I am. If only he could hold me tightly wrapped in his arms forever.

I was only a few feet away from him, I wanted to reach out to him, I wanted him to reach out to me. As I got closer my hopes got higher, I wanted him to want me just as bad as I wanted him. I could feel something pulling me closer to him, if I didn't control myself there could have been a collision. An inch away and this is it the moment I wait for every moment or everyday, this is what I live for.

"Hey." That was it his voice soothing my soul calming me, and returning me to my normal self. Until tomorrow we meet again, I will long for your embrace, Zachary the love of my life.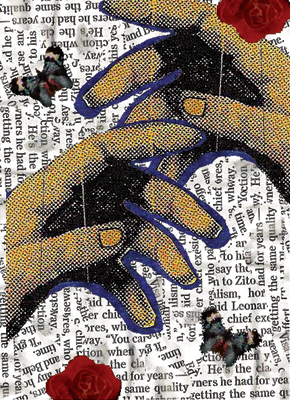 © Christine S., Arlington, VA